5 terrific widgets for a better start page
5 terrific widgets for a better start page
When you first start building your personal landing page at start.me, you might get overwhelmed. There are so many widgets. Anything goes, as we are proud to say. But not everything is helpful or even useful. To help you navigate the many ways to improve upon your start.me experience, we've selected the most useful building blocks we'd like you to try out.
Start with an image gallery
First of all, make sure to set up a personal page. For your eyes only. This gives you the freedom to start not just with a background image you like, but also with an Image Gallery widget. Consider this your new digital wallet, where you once kept the photographs of your loved ones.
You can simply upload any personal image, just snap a photo and upload them to your page. You'll never lose them again and they'll remind you what really matters in life and work.
Use Twitter and Facebook widgets
Next, you want to make sure you're connected to the world, but not distracted by all its possibilities. If you just open Twitter you might get lost in the noise. If you click on Facebook you might even postpone your work until it's too late and your deadline has ended.
Here our widgets are a lifesaver: you can make them as big or small as you like, but you can only follow one handle at a time. Just your company, a news organization, your active spouse. You can leave the rest until you're back to commuting.
The centerpiece: your bookmarks
We wouldn't understand our major function in life if we wouldn't put our major accomplishment where it should be: right in the center of your screen. This is where you keep your bookmarks.
We like to group the links we need for one particular job together. Everything in one place, so you can focus and find it right where you know it will be. No need to guess, check, search, just click and go. We also find it helpful to give each Bookmark widget a different color and to give a little description of each project as we go along.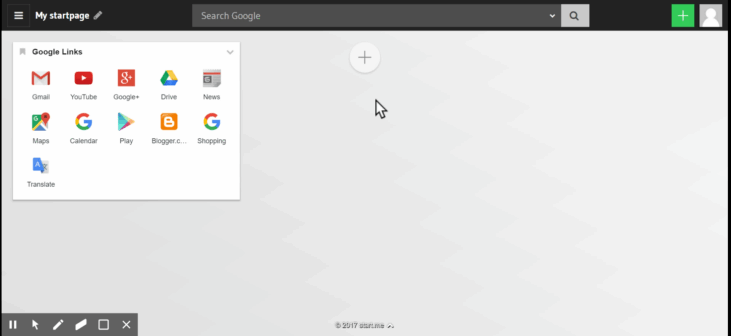 Be safe and take notes – digital notes
Of course, you know about our browser extension. This little button makes it possible to save everything you encounter on your research for your next big project in one place: your start.me page. More precisely on your dedicated Bookmark widget. You don't have to worry about losing track. All your resources will be right there: alive and available.
But what about the ideas you come up with, as you're working along? You might write them down in a little notebook, on an old envelope or another piece of paper. You might lose track of it, forget it, drop it in the recycle bin. Someone might use them to gain access to your data.
Or you could go paperless with the Notes widget. Right there on the screen. Just click and type your ideas. Later on in the process, you can copy them to your favorite word-processor without breaking a sweat.
Our clean Weather widget
And finally, because you might just want to leave your computer screen at one time or another, you decide to go outside. Just make sure to check our elegant Weather widget, with actual, reliable information about what you might expect: a light sprinkle of rain perhaps, some sunshine or even the first flocks of snow in winter. You'll be prepared so you might enjoy whatever comes your way.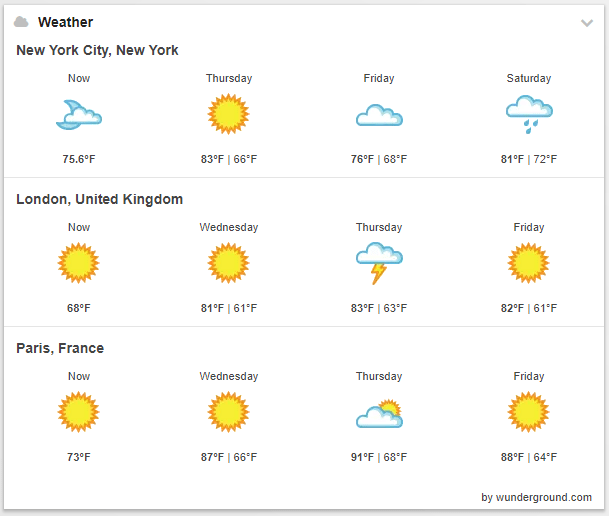 What's your favorite widget on your personal page? Let us know in the comments below.