New Calendar widget (BETA) now available
New Calendar widget (BETA) now available
Today, we released a new Calendar widget. The new version comes with several bug fixes and new features.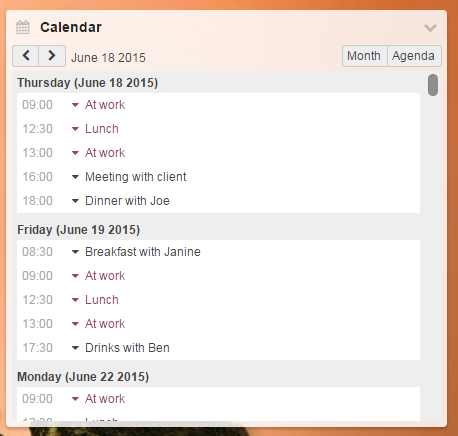 Release notes:
Improved support for multiple calendars
Google Calendar events are now visible in your calendar, even when you are not logged in to your Google account
ICAL-calendars (.ics) are now supported
Calendar events will be now updated faster
In the near future we will also support the integration of Microsoft and Yahoo calendars in this calendar widget.
Instructions:
To add the new Calendar widget to your page, follow the next steps:
Click the "+Widget" link in the top of your page
Select "Calendar" from the widget menu and add it to your page
Now select the calendar provider ("Google Calendar" or "ICAL calendar") that you want to add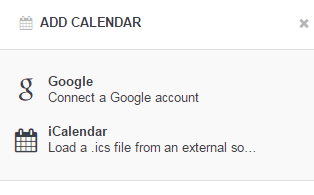 Depending on #3, authorize your Google account or add an ICAL-URL.
Your calendar should now start to show the events from the calendar provider
You can use the "Edit" link in the calendar widget menu to select/deselect the calendars that you want to display.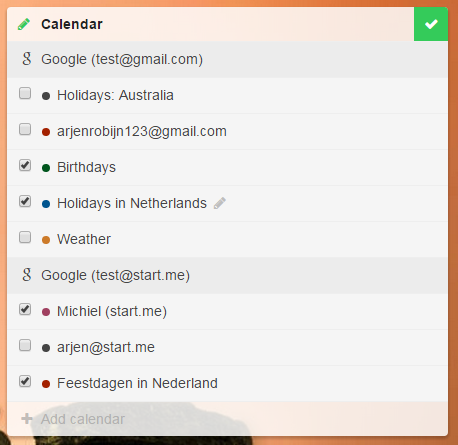 Note: currently, we only support iCal and Google Calendars. If you'd like to add other calendars, please let us know by emailing our support team (support@start.me).
---
Status Update July 29, 2021
This article is no longer accurate. That's why we labeled it
Old news
. Please check the
start.me Help Centre
for the latest information.