More compact header and return of tabs
More compact header and return of tabs
Daily we receive quite a lot of mails and feedback. We like that and carefully read every single message we get. It's feedback from start.me users that helps us improve the service. With the last major UI update in April, we received a lot of praise, but some more critical remarks as well. We listened to those remarks and today we launched an update to the start.me user interface. It is not as big as the april-release, but it offers a lot of nice improvements!

More compact header

The first thing you will probably notice is the new, more compact header. We reduced its size with about 10%, leaving more valuable screen space for your bookmarks and widgets. We made the buttons on the bar more compact as well. The user menu now has a clearer 'gear' button and the search box is centered, to make it more easily accessible.
For those of you who (like us) like to embellish their pages with nice background photos, there is another cool new feature: the header bar now takes on the color of the background image. This visual effect is not just quite beautiful, but provides a better contrast as well, making the buttons easier to find.
Easier page editing
To make editing pages a little easier, we added a 'page menu': when you click on the title of the current page, a dropdown menu will show, offering you a number of often used editing options: change the background, add some bookmarks or create a new widget. The '+bookmark' button now just reads '+' and has been moved to the right side, allowing you to quickly add bookmarks.
Return of tabs
One of the most common questions we received after the april UI-upgrade, was how to get the tab bar back. The new user interface introduced the pages menu (available through the 

 button) to give quick access to all pages you created. We underestimated the number of users that actually preferred to have all their pages directly visible on screen, enabling them to quickly switch. That's why we chose to introduce a pages submenu. This menu can be enabled in the Preferences.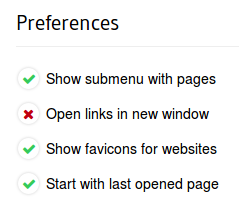 If you like, you can enable the pages submenu. Please note that the bar will only show when you have at least two pages. The submenu has been designed to blend in well and automatically adjusts to the background image you selected for your page.

---
Status Update July 29, 2021
This article is no longer accurate. That's why we labeled it
Old news
. Please check the
start.me Help Centre
for the latest information.