Social bookmarking site Pinboard takes over from Delicious
Social bookmarking site Pinboard takes over from Delicious
Guest blogger Melanie Dawn writes about the future of social bookmarking after the demise of forerunner Delicious. The new owner of its famous domain is the one-man enterprise called Pinboard. Does this self-proclaimed 'Social bookmarking for introverts' have what it takes?
Delicious used to be a promising bookmarking site but it shut down last year. A small but new website called Pinboard has acquired Delicious and has continued on from where they ended. Social bookmarking has proven to be useful, but somehow Delicious failed to get its value out there. Pinboard may just be the breath of fresh air we need to manage our chaotic internet web surfing through a bookmark manager system.
Founder Maciej Cegłowski
Pinboard is run by founder Maciej Cegłowski. He's a Polish-American web developer who lives in the city of innovation—San Francisco, California. Pinboard was actually established in 2009, so it's been around for some time, but is now gaining interest for its value for both individuals and businesses as an effective bookmark manager.
Maciej was impressed by the bookmarking site, Delicious. He felt that he could make a more successful business model, but also focus on an ad-free subscription service that focuses on privacy, which can be a big issue in social media today.
Pinboard
When Pinboard first started, it required only a $3 fee from users. The fees slowly increased, in order to control the growth of the site and to discourage spammers from joining.
The site allows you to save an archive of your favorite websites through a system of bookmarks. But instead of the chaotic system of bookmarks that Chrome, Safari or other browsers has, this system was much simpler and easier to use.
Growth of a bookmarking site
Pinboard began with 1200 users and a low monthly fee to save archived bookmarked pages. The company slowly expanded into 2010. With the problems with Delicious, many people left and joined Pinboard. It had another 16,000 users and increased its signup fees.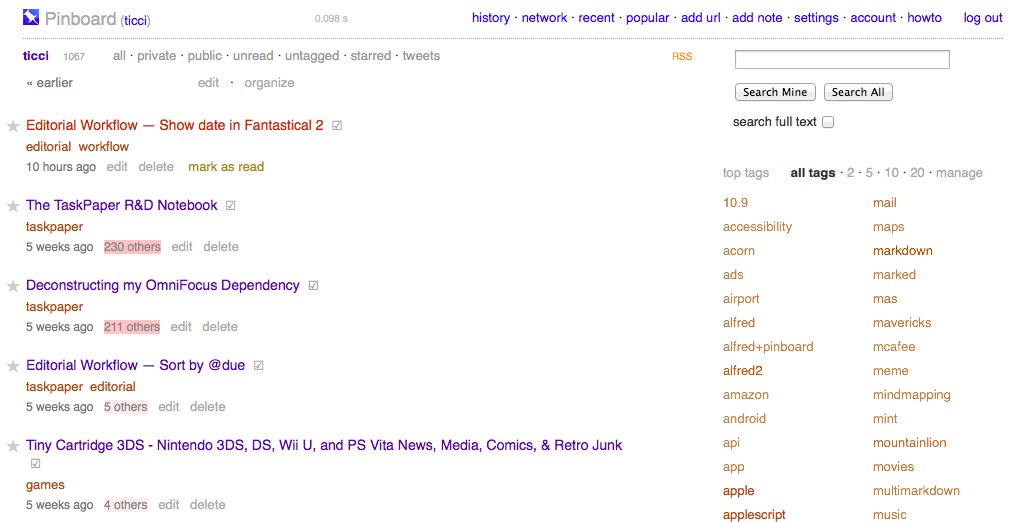 By 2011, Pinboard had over 25,000 registered users, with 18,000 of them being active. Maciej continued to be a one-person operation. In 2015, the annual fee was $11 for new signups. In June 2017, Pinboard acquired Delicious. He offered their users the option to export their bookmarks to Pinboard. Currently, he has not made a decision about what to do with Delicious.
Maciej's goal for Pinboard was to create a better user interface. He did utilize Delicious's bookmarking style where people can save a list of tagged bookmarks. There is also the ability to edit and organize your bookmarks. Users may install a bookmarklet button in their web browser, which simplifies adding links. Pinboard can also bookmark links from Pocket, Twitter, and Instapaper accounts. Introvert as it may proclaim itself to be, it still has a sharing function.
Pinboard today
Today, Pinboard continues to be run as a subscription-based account. It does not have any advertising. There are no images in sight. It feels like a basic, text-driven solution to the problem of social bookmarking.
Maciej Ceglowski has always been supportive of new business startups and offers assistance to startup companies. He has his own blog and speaks extensively at conferences. He speaks on the values of working on projects slowly, rather than rushing, and doesn't feel that focussing on online advertising will contribute to the success of a business.
It will be exciting to see what the Pinboard bookmark manager offers to users in the upcoming months and whether Delicious will experience a resurrection.