Why did this IT specialist switch from Symbaloo to start.me?
Why did this IT specialist switch from Symbaloo to start.me?
With over 2 million users a month start.me has recently become the biggest player in the world of personal start pages. This is no accident, of course: we offer a great many wonderful features that many of our users find interesting and useful. This time we've asked Marcel Pronk about the smart ways he uses start.me on a daily basis. Here's his story.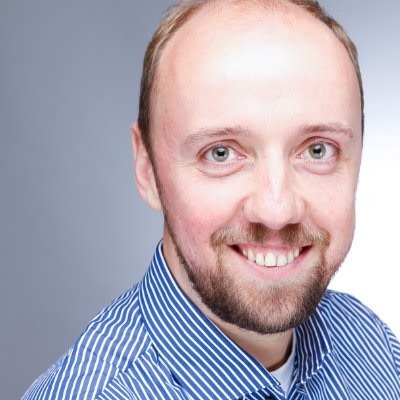 First, introduce yourself, please
My name is Marcel Pronk. I am 36 years old, and an IT professional, always looking for ways to become more efficient on the Internet. I live and work in Rotterdam, the Netherlands, and like to dine out and travel.
Did you use a start page service before?
Yes, I did use another start page service before, Symbaloo. The biggest problem was the way they showed RSS feeds: in a very small centered window. When I heard about start.me I immediately opened a free account, just to see what the fuss was about. I was very impressed with the uncomplicated way everything was organized. It's very functional and technically reliable. I continued using both start pages for some time, but eventually, I switched completely to start.me.
How do you use start.me now?
Both professionally and personally. The great thing about start.me, is that you can make as many different pages as you'd like. I've made a separate page for my work, where I locate all my bookmarks. This way it's always up-to-date. For my travels, I've made another page. For the moment I only use start.me on my laptop, but perhaps I'll start using it on my phone too. My laptop has got a touchscreen, which makes it very easy to use.
What are your favorite widgets?
I really prefer the RSS widgets. I like to monitor a number of sites continually, and these widgets make it very easy to do. I also like to use the notes widget to keep my mind empty, and the World Clock to see the time in Australia and New Zealand.
Do you share your links?
Yes, I do share pages with information I feel might be useful to others. I've made a page dedicated to Dubai, for example, with all kinds of travel offers (from the Netherlands) and videos.  Feel free to check it out.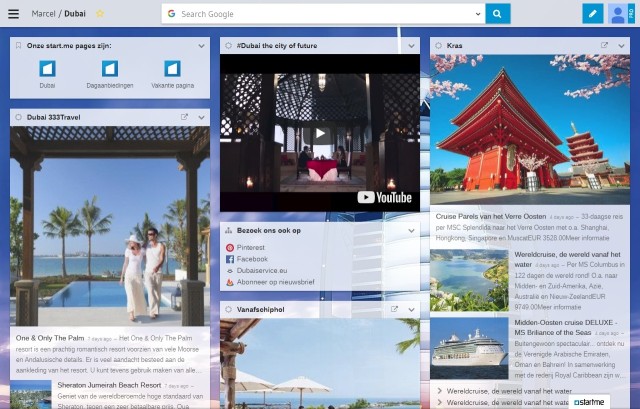 Have you recommended start.me to other people as well?
Definitely. I think anyone should use this because it's so simple. start.me is useful and understandable. I've recommended it at work and at home, to my family. I've also found it to be convenient for anyone who's not too experienced with computers. Aging people, for example, can use start.me on a computer with a touchscreen or a tablet. They only have to touch the bookmark, to go where ever they want to.