Try out this widget: Trello Boards
Try out this widget: Trello Boards
Today we've launched a new premium widget: Trello Boards. Trello is a popular web-based project management application that allows you to organize anything using boards and cards.
With the start.me Trello boards widget, you can now automatically add deep links to your boards on your start.me page. This gives you one-click access to the various boards that you frequently use.

Instructions
To add the Trello Boards widget to your page:
Hit the green "+" in the top of the page
Click "Widgets"
Select "Premium" tab
Add "Trello Boards" widget
Authorize your Trello account, so that start.me can access your Trello boards
In the widget settings you have the following options:
(Select what kind of boards you want to see: Personal-, Starred- or Team boards)
(Select the number of boards you want to see by default)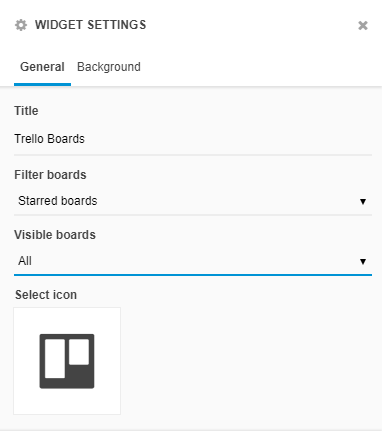 For more information about this widget, check out our support article.
This widget is only available to PRO subscribers. Not a PRO subscriber yet? For more information: https://start.me/pro.