Improved GMail and Google Tasks widgets
Improved GMail and Google Tasks widgets
Our widgets for GMail and Google Tasks are quite popular. Today we released updates to both widgets, making them a lot faster and more functional. As a result you will have to reselect your Google account. We are sorry for this inconvenience, but there was no other way.
GMail widget improvements
The widget thas has most noticably changed is our GMail widget. We improved the layout and filtering options of the widget. As a result you can now choose to see a list of unread mail, but starred and so called 'primary' mail as well. The latter is particularly useful to quickly filter all kinds of notification mails away and only see the most relevant mails.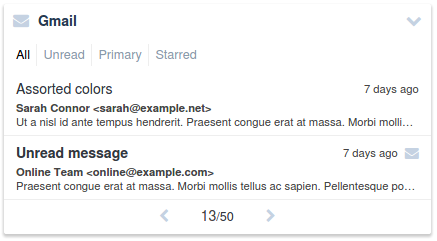 To give you more control over the information shown per message, we now offer three different display modes:
Subject only
The subject line and below the author of the email
A complete display of subject, author and a snippet of the email body
We made the GMail widget a lot faster, especially when browsing through the pages of emails. To do this, we had to reset all accounts. We are very sorry for the inconvience, but we promise that we won't have to do this again anytime soon (unless Google changes his minds).
Google Tasks widget
The most important change you will notice in the Google Tasks widget is that it is no longer read-only! You can now actively add, update, check-off and delete items. These features have been on our list for a long time and we are very happy we can now offer them to you!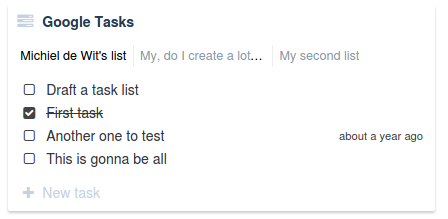 Some nice new features, if we may say so. As always, your feedback is more then welcome. So if you have any questions or suggestions regarding the GMail and Google Tasks widgets: let us know!