start.me acquires bookmarking site Favoor.com
start.me acquires bookmarking site Favoor.com
We are excited to announce that we have finalized the acquisition of Favoor.com, a bookmarking site with over 160,000 registered users.
We welcome all Favoor.com users and hope they will enjoy using start.me to organize their bookmarks, feeds and notes. If you are a Favoor user, you can find more information about the acquisition and migration of your data here.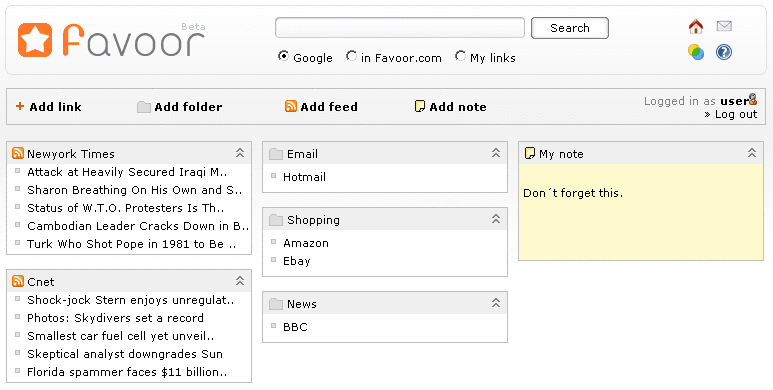 Press release
Amsterdam, The Netherlands (March 10th, 2015) – Today, start.me announced it has acquired Favoor.com, a bookmarking website with over 160,000 registered users.
start.me offers a web-based personal start page with an integrated bookmarks manager, support for news feeds and a library with thousands of widgets that help users connect to popular cloud services.
start.me's founder Arjen Robijn said: "Organizing your bookmarks on a personal start page is a great way to keep your found websites found. We are really excited that we can now help improve the bookmarking experience for the Favoor community."
Favoor's founder Cem Bozok: "Knowing the superb start page platform that start.me has created, we are confident that our users will be happy with their new home in the cloud."
As a result of this acquisition, the Favoor brand will be retired with immediate effect. All user data and bookmarks have been migrated and are now available on start.me.
The terms of the deal have not been disclosed.
About start.me:
start.me has developed a web-based personalizable start page. Since its launch in 2014, start.me has attracted over 125,000 registered users, including a large number of former iGoogle users. start.me also provides dedicated solutions to educational organizations and businesses.
About Favoor:
Favoor was released in 2005 by Cem Bozok and Murat Polat. The personal start page service, with over 160,000 registered users, provides an integrated bookmark manager, support for RSS feeds and note taking capabilities.