Add social logins to your account to login even faster
Add social logins to your account to login even faster
 Are you tired of having to remember multiple usernames and passwords for all your online accounts? Social logins are here to rescue you! With this nifty feature, you can use your existing social media accounts like Facebook or Twitter to log in to other websites, including start.me. Say goodbye to the hassle of remembering yet another password!
We've got you covered with a step-by-step guide on how to set up social logins for your start.me account. Get ready to streamline your login process and save time for the things that really matter (like scrolling through your social media feeds).
How to add social logins
Instructions:
Open the Admin portal by clicking your Profile picture > Account details.

Select Authentication > Social logins.
You'll see a list of all the accounts connected to your start.me account.



If you don't see a connected login, click the button Connect new account.



Authorize the social login of your choice to continue.
We support Google, Facebook, Microsoft, Twitter, Yahoo, and Apple.




Next time you want to log in, click the social login button.
Important note: When you authorize start.me to use your social login credentials, please be assured that we will not gain access to your social media account, nor will we be able to post anything on your behalf, or view any other personal information you've shared online. Your authorization only grants us permission to provide you access to our service.
Remove social logins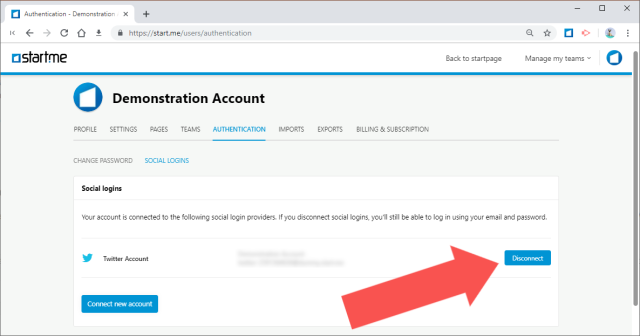 Of course, you can also disconnect any social login.
Instructions:
Open the Admin portal by clicking the ME icon > Account details.
Select Authentication > Social logins.
Locate the social login you want to disconnect from your start.me account, and click Disconnect.
Note: you can use a social login only with one start.me account at a time.
What do you think?
We would love to hear from you! Leaving a comment on our blog post is a fantastic way to share your thoughts and insights with us. Your feedback is incredibly valuable, whether you agree or disagree with what we've written. We welcome your input and encourage you to share your perspective with us. So don't hesitate to leave a comment, and we look forward to engaging with you!