Share links like a pro: save your coworkers a lot of time
Share links like a pro: save your coworkers a lot of time
We google ourselves to death. Every day and every moment we're not sure about something, we simply type and scroll as if it takes no effort or time at all. But it does! Especially when you have to look for the information you've found before. That's just a waste. This is where our solution to share bookmarks is super-useful.
But think bigger for one second: what if you run a company where everybody keeps on searching for exactly the same information over and over? This is more than a waste. It's bad for business. All these seconds spent googling will eventually add up to serious amounts of time wasted.
Our solution for this problem is surprisingly easy: use start.me to capture and share those links. Then add the links you find to a start.me page and share it with your coworkers.
Example: Share information about a prospect
Let's say that you've gathered crucial information about a new prospect. His personal website, social accounts and some clips from old articles in a newspaper. Now let's build a start.ma page about this prospect. Here we go:
You save the links as you go, with our browser extension. As you collect this information, start.me will save everything in the cloud, privately and securely.
Next you can add some photos with the Image Gallery widget (a start.me PRO feature).
Then you program a Google Alert with the name of your prospect (Add News Feed RSS) so you won't miss anything when the time comes to meet.
Finally, you make notes about your conversations with our Notes widget.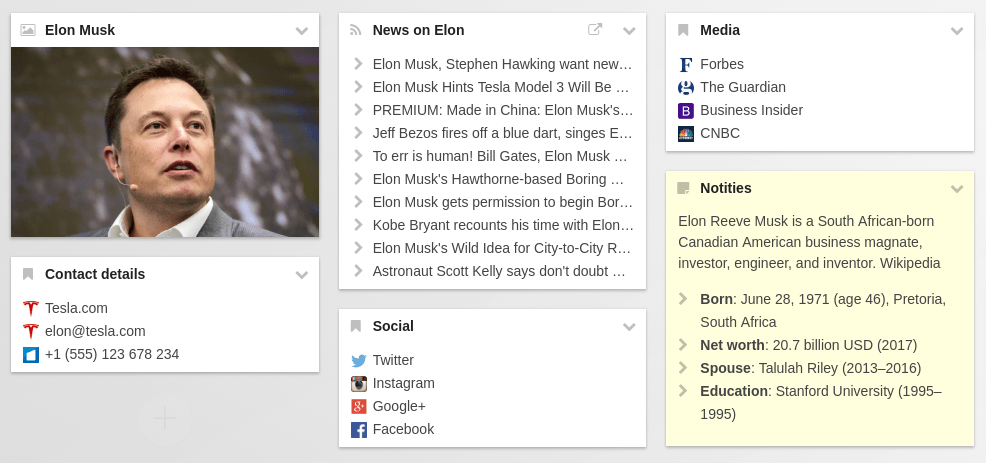 Share the prospects info with a coworker
Now suppose that all this hard work has paid off and your prospect decides to do business with you. How will you share your information with your coworkers from back-office? Just share your entire start.me page. Click on the Share button, and 'Share page'. It's as simple as that.
No need to compose a dull document and e-mail it around. No need to print information and hand it over to gather dust in some drawer. Just email a link to live information that's updated automatically, in a format that's highly adaptable. No one has to Google. Everyone is informed. That's start.me.
If you're not sure about the best way to share your page, just check this article in our support database. If you're not convinced or if you use widgets we haven't mentioned, please let us know in the comments.