Plan a vacation with these colorful quality widgets
Plan a vacation with these colorful quality widgets
Even though the travel restrictions because of the COVID virus haven't been lifted everywhere, we see a lot of promising signals. So yes, it's time to dream of a summer vacation. Our guest blogger Heidi Matthews has collected a few useful pointers. Check them out, and start planning your great escape!
The best time to plan a vacation? Today!
The first thing to do: decide where to go. I'm going to start building my page with a combination of a notes widget to invite my travel companions to participate in the trip planning and two bookmarks blocks, one for each country we are all interested in traveling to. I've already selected the best links to describe each destination so my travel buddies won't have to do much research – they'll like that a lot.

Embed a poll
Since we decided to travel with a small group, I thought it would be useful to put a poll on the page. This way, anybody can vote when they have the time and opportunity.
There a lot of free options out there. For this page, I've chosen a Crowdsignal form, and used the Embed widget.
Here's the result:
Collect preferences
I also want everyone to have the chance to add their favorite airlines, hotels, and other travel preferences to our collective thinking. This is especially important if someone has frequent-flyer miles they want to use. So I will add one more explanatory notes widgets and two more bookmarks blocks, both with a few suggestions.

Add Todo-lists
Next task is to add the Todo list widget to the page, so none of us will forget anything. But one of them is never enough for us super-organized types, so I am also going to add two more Todo list widgets, one to be renamed "Packing list" and the other, "The day before we leave." The really good thing about these widgets is how easy they are to use – you can add items right on the page without opening the widgets themselves. And having everyone contribute their ideas to each list as we go along will help all of us.

Finally, at the bottom, I'll put in an all-purpose bookmarks block containing handy tools for use both before and during the trip.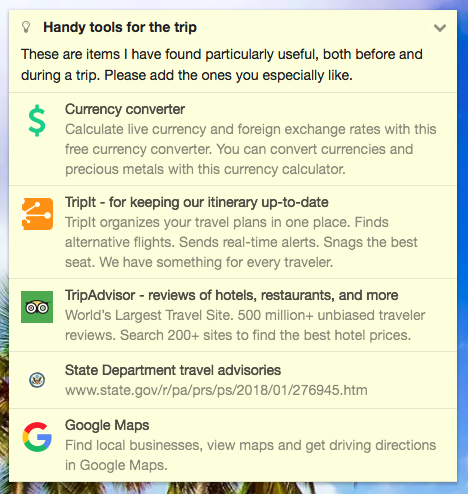 Plan a vacation your way
The great thing about start.me is the amount of personalization that can be done. Want a world clock? There's a widget for that. Want to know what the weather is going to be where you're going? There's a widget for that, too. Dress up the whole page with an image gallery of travel photographs. Put in a link to Office Live so you and your travel companions can use Excel to keep track of all of your trip costs. Play around with the page format to make it as attractive as possible. There's no end to this.
Now it's time to share my page with all who will be going on this trip. Here it is:
We can't wait to see the restrictions lifted completely. As soon as they are, we 're off!
To see the complete page Heidi made for her vacation, open the Public Page  'Let's plan a vacation together'. You can copy the blocks or widgets you like to your own page.