Newsletter sponsoring
Newsletter sponsoring
Every month start.me sends out a newsletter to its most engaged users. Currently, those are about 250.000 recipients. The newsletters mostly consist of a recap of past blog content. We do, however, reserve one content slot for sponsors. So if you are looking to advertise in our monthly newsletter, please contact us about the possibilities.
About the newsletter
Our newsletter is composed of 8 blocks, each consisting of an image, a caption and a short pitch. These blocks are randomized, to make sure each block gets approximately the same amount of attention. We offer sponsors the chance to provide one of these blocks. Just as all other blocks, the position of this block will be randomized so that it will appear at different positions for every recipient.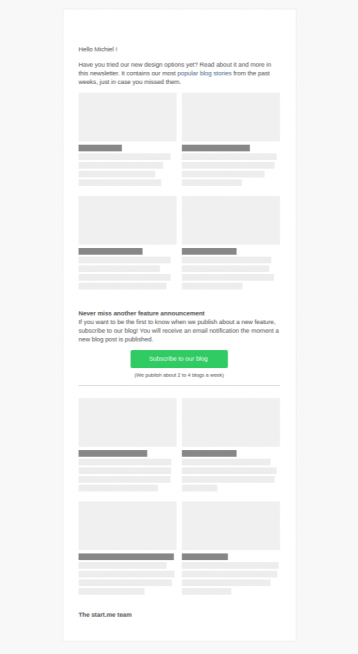 Content
Our newsletters are mainly composed of content that has previously been published on our blog. A typical newsletter will contain:
One or more feature announcements
A column by our editor in chief
An article with a top-5 of sites in a specific category
One or two background articles
Samples
Please find a number of sample newsletters below:
Audience and performance
The newsletter is sent monthly to about 250.000 email addresses. These addresses are from people who use start.me or have used it not so long (less than a year) ago. At least half of the recipients is from the US. Other territories in the top 10 include European countries such as the UK and Germany.
Open rates for the newsletter are around 14%. The order of content is randomized, but sponsored posts will always be included in the first row of the newsletter. In addittion, there will be a 'Sponsored by XYZ' line in the header of the email. Sponsors will receive detailed open and click statistics after each campaign.
Sponsored content format
We do not accept banners for our newsletters. Content provided by sponsors will have to be in the 'Advertorial' format, where the content is sufficiently informative to be of interest to our readers. The format for a content block is as follows:
A small photo in 2:1 aspect ratio (220×110 pixels)
A short title of 3 or 4 words
An article pitch of about 20 words
The illustration below shows what a typical block would look like: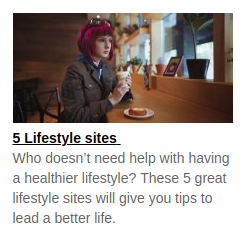 Interested?
If you are interested to sponsor our newsletter, please contact us and we can provide you with further information. We generally work on a CPM model based on the actual number of emails delivered. We only accept a single sponsor per newsletter and only the entire audience can be targeted.