Remove your broken links
Remove your broken links
Broken links are a pest. That's why we're so happy we released the Broken Link Checker. If you're a PRO user, we tell you exactly which links no longer lead anywhere, so you can remove them with a click. Here's what you need to know.
How do I check my broken links?
We test your links automatically, so you don't have to worry. We tried to make it easy and intuitive.
The first think you'll notice when you have broken links, is the strikethrough. You'll see a broken link like this:  Link title. It really stands out.
Example bookmark widget:

Upon clicking the dead link a new menu is offered with the following options: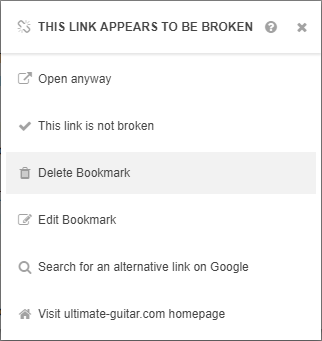 Open anyway – Click this option, if you want to see if the link really leads nowhere.
This link is not broken – Sometimes we get it wrong. In this case, feel free to correct us!
Delete bookmark – Remove this link from the bookmark widget
Edit bookmark – Correct this link manually
Search for an alternative link on Google – Try and find an alternative webpage on Google
Visit homepage of link – Go to the homepage of the link
We hope that this new feature will make it easier for your to clean up your old bookmarks. Happy housekeeping!
Please leave a comment below or e-mail your suggestions/feedback to support@start.me.
Premium-only
The Broken Link Checker is only available to PRO subscribers. Go PRO today!