New mobile experience now seamlessly integrated with desktop version
New mobile experience now seamlessly integrated with desktop version
We keep on improving the mobile experience of start.me. After a lot of user feedback, we decided to improve our mobile version once more, by dropping the dedicated mobile interface. Now, when you go to start.me on your mobile device, you'll see your familiar pages. The widgets are collapsable and intuitive. Try it out, and let us know what you think!
This isn't our first effort to bring start.me to your mobile device. In the rest of this article, you'll read more about the old, now retired, mobile version.
Announcement new mobile experience (Oct. 2018)
We promised this a while ago, and now we deliver: our beautiful new mobile experience has finally arrived! Many of our users asked us to integrate their desktop experience more seamless into a mobile solution. To make this happen, we've simplified the mobile version and made it faster and more intuitive. In this article, we explain how you set it up (hint: no set-up required). We also describe why we embarked on this journey and what solutions you can expect. And finally, we get into the nitty-gritty of this brand-new mobile startpage. Here's everything you need to know.
How to set it up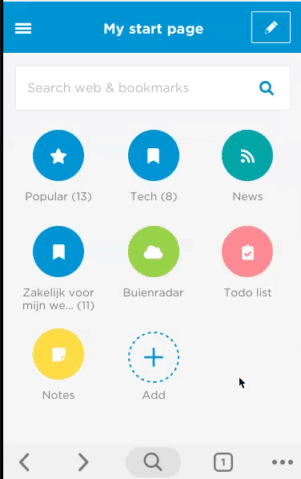 If you want to access all your favorite bookmarks, RSS feeds or other widgets on your mobile device, just open your mobile browser and type https://blog.start.me in the address field. There's no need to install anything. Just go to this address, add your credentials, and you're done! You can use any mobile browser.
The first thing you'll see is a series of buttons arranged in alphabetical order.
The buttons are nothing more than your own widgets:
Blue for Bookmark widgets
Sea green for RSS Feeds
Yellow for Notes widgets
Red for To-do lists
Grey for all other widgets
There are several reasons why we've introduced these buttons, like simplicity and rendering speed. Especially when you've placed many widgets on your start page, you can now get a quick, uncluttered view of all widgets. In the old mobile version, this wasn't possible at all. Also, due to limited screen sizes on mobile devices, we couldn't show the regular columns we use for our desktop start pages.
The colors of these buttons can't be personalized at the moment.
Every button, however, also displays the widget icon. It will show the standard image (a bookmark, a star, a note, a checkmark), but you can change this in the Desktop version. Your new icon will appear in the mobile version.
New features for the Bookmark widget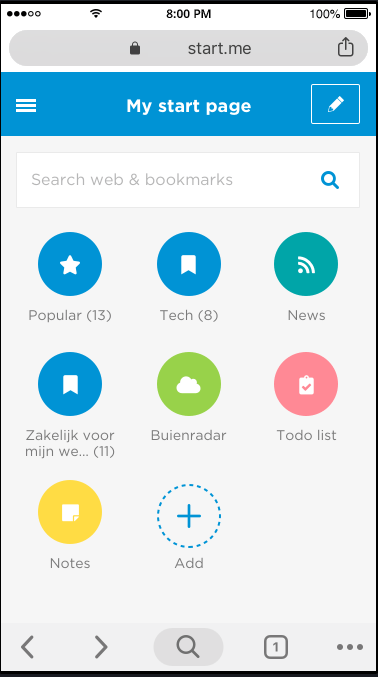 If you want to change the alphabetical widget order, click the Edit button in the top right corner of your screen. Now you can drag and drop the widgets wherever you like. The changes you make here have no effect on the desktop version of your start.me page.
When you're in the page edit mode, you're also free to delete any widget, by clicking the x. This change will affect your desktop site, so be careful. Once you've removed a widget, there's no way back.
Once you've opened a widget, you can also click the edit icon. Now you can delete or rearrange the bookmarks, just like before, in the page edit mode. At the bottom of your widget, you'll also notice a Settings icon (a cog). When you tap here, you can change the title of your widget and decide if you want to show the bookmarks as a list or as a collection of icons.
Quickly add new sites
We've retained the search bar, set to do a customized Google search. You can use it to locate one of your bookmarks, as it will display the results of your bookmark search immediately. You can also use it to easily add any site you've found to your start.me page.
Once you've located the site you want to add to your start page, click the Bookmark icon next to the address.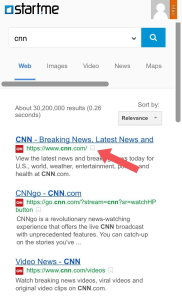 Other ways to add bookmarks to your start.me page is by clicking our Bookmarklet or by adding one directly to a widget. Just click the Add icon at the bottom of any Bookmark widget and start typing. As you're typing our Discover section will offer suggestions you can click to confirm.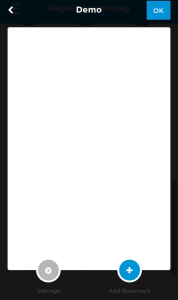 Use multiple pages
Since every start.me user can make more than one page, we had to find a quick way to access them. As you'd expect from using the desktop version, you click the Menu icon (the Hamburger) in the top left corner of your screen. Now you can view all pages at once or get to the Account information. If you have enough pages, you even get a horizontal scrollbar.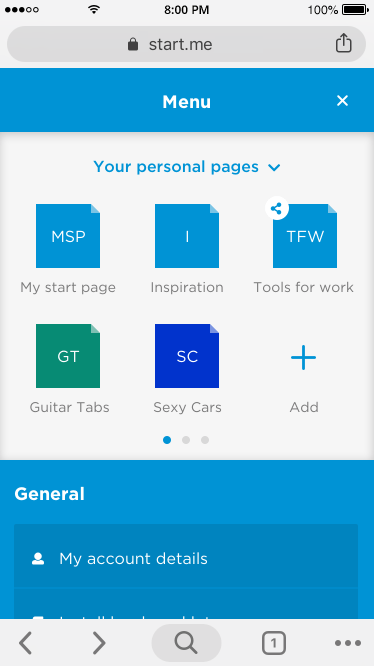 In the same section, you will also find multiple links to other sources of information. Just try it out, it should feel quite familiar.
If you want to change the title of your pages, you open them and scroll to the bottom. You'll find a button 'Page settings' where you can change the title, among other things.
Other useful apps: notes, todo, RSS feeds
When we imagined the redesign of the mobile version of our start page, we thought a lot about its practical usability. We realized that some widgets might be more useful on the fly than others.
The notes widget, for example, for quickly jotting down a phone number, a name, some other piece of information. We've made this more straightforward than ever while retaining the unobtrusive Markdown options.
Adding a Todo list will be useful for adding and checking off grocery lists. In the mobile version, you can add new tasks or items just by clicking the Add button.
Another useful addition to our clutter free widget is the RSS feed. From one page you can quickly scan a News source, or more than one if you prefer.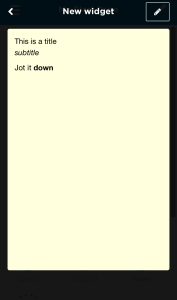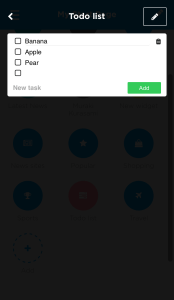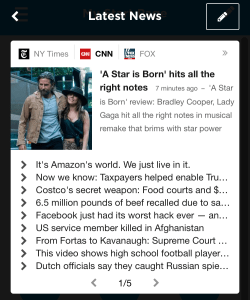 Of course, you could save your notes in Google Keep, Evernote or OneNote, your Todo lists with Wunderlist or Todoist and your News feeds in yet another app or series of apps, but why not have it all in one place? Safe, comfortable and reliable. A seamless experience across platforms and devices. Available and in sync wherever you have access to the Internet. Just to make your life online a bit more efficient.
Let us know what you think!
We've covered a lot of ground here: a brand-new mobile start page is no small feat. I hope you can tell we're proud of the new version. We also realize we're not there yet. Even as we are writing this article, we still discover an occasional bug. We try to remedy everything as soon as possible, but again, we're only human. We might have missed something.
Even more: we might have made some choices you're not too happy about. Please do let us know in the comments below. Or drop us a line at support@start.me.
And of course, we're also more than happy to receive your compliments, if you have some to spare. Our mission is to empower our users to navigate the Internet more efficiently.
We really hope we're doing just that!
---
Status Update July 29, 2021
This article is no longer accurate. That's why we labeled it
Old news
. Please check the
start.me Help Centre
for the latest information.