More widget customization options
More widget customization options
The most important building blocks of start.me pages are widgets. No wonder we get a lot of feature requests from people who want to customize their widgets. Thus far, most of the customization options allowed you to change the functionality of the widget. Today's release gives you more control over the widget's looks. You can now change the color and transparency of widgets individually. When you try it, you will see this opens up tons of new possibilities!
Widget background
So far, there was no way to make specific widgets stand out. We added a 'Background' tab to the settings dialog of all widgets to change that. Apart from the default white background, you can select one of 9 background colors to make some widgets stand out more. The colors have been picked to be both distinctive and work well with the overall design of start.me widgets.
We introduced transparent widgets quite a while ago already. The transparency of widgets can be set for the entire page. In some cases, that setting is a little too coarse and it would be preferably to be able to set widget transparency individually. So we added a new setting to allow per-widget tuning of transparency. You can still set a global transparency value for all widgets on a page, but choose to set a different transparency level for one or two specific widgets. Great if you want some widgets to blend in with your background image.
Some other new options
Apart from these really cool background settings, we also added some widget specific settings. The Notes and Twitter Timeline widgets now support a configurable height, allowing you more control over the look of these widgets. For the Notes widget, this means you can have long texts displayed in a relatively small space.
The email widget now supports custom IMAP, so that you are not limited to the providers we offer: by simply specifying your own email server's IMAP details, you can integrate email from whatever source you want!
And finally, we made a new widget available: the Profile widget. This widget offers a nice way to describe yourself, your organization of something else you like. A photo can be attached to the description as well as links to Twitter, LinkedIn, et cetera. You can see some examples on our about page.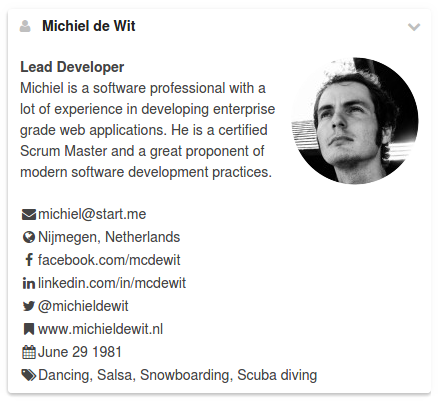 We hope you like the new customization options and would like to invite you to share with us some of the pages you have made using the new customization settings!
Reorganized widget settings
Oh, before we forget: we reorganized the widget settings dialogs, making common settings easier for you to find. The widget's title and icon can now be changed directly through the settings dialog, providing you with one clear place to go for customization settings. We hope you enjoy!
---
Status Update July 29, 2021
This article is no longer accurate. That's why we labeled it
Old news
. Please check the
start.me Help Centre
for the latest information.