More layout options for Bookmarks widget
More layout options for Bookmarks widget
Two weeks ago we introduced a new 'Detailed list' mode in the Bookmarks widget. This mode supports adding descriptions to your bookmarks. We got a lot of positive feedback. Today we are adding some more cool formatting options: larger icons and Markdown support!
Larger icons
The Bookmarks supports a new setting: Icon size. This setting is available in both 'Icon' and 'Detailed list' modes and gives you the freedom to select from 4 different icon sizes:
Small – This is the default size (32 pixels)
Medium – A larger icon size, previously known as 'Large icons' mode (64 pixels)
Large – A larger icon size, not previously available (96 pixels)
Extra large – A really large icon size (128 pixels)
These two new icon sizes are particularly useful in combination with custom icons, both our built-in collection of vector icons and icons you upload yourself. With these larger icon sizes, some really nice new options come into view, such as:
Small photo collections
Book reviews with book covers
Start pages for children, with extra large buttons
Some examples can be seen here.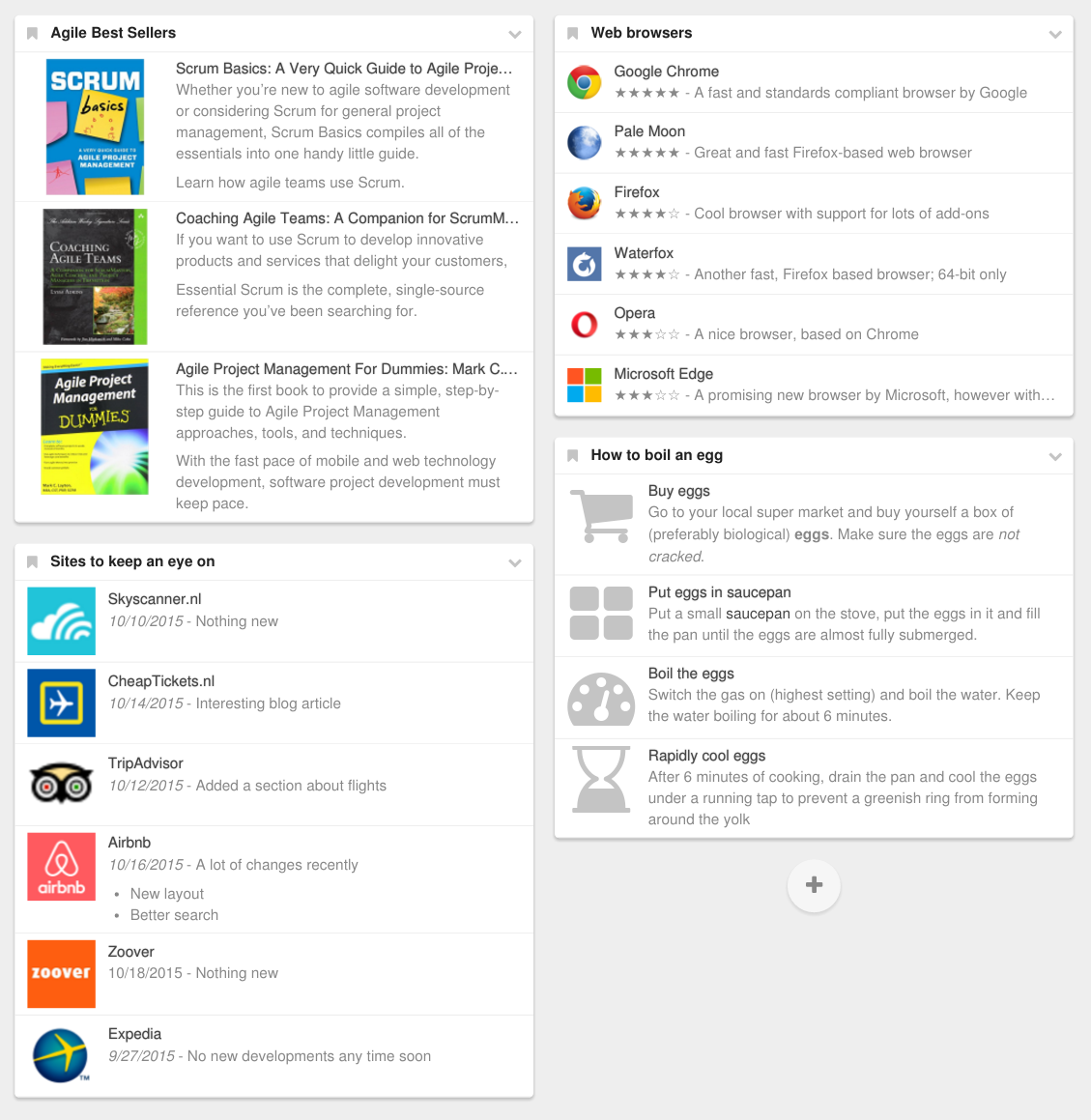 Markdown support
To give you some options to add markup to the descriptions of your bookmarks, we added Markdown support. With simple means, this allows you to emphasize some parts of the description, create bulletlists and even embed hyperlinks. Markdown support is still somewhat experimental, so we are very much looking forward to your feedback.
Bonus: more right-clicking!
Some time ago we already introduced context menus in the Bookmarks widget. By right clicking a bookmark, it can quickly be edited or removed. We received a lot of feedback from users. Quite some of them pointed out that not having the browser's context menu anymore caused them problems. So, we added a fix for that. If you would like to open the browser context menu, just hold down the shift or control (Apple: command) key when right-clicking.
Furthermore, we added some more context menus: you can now right-click on widgets to get their context menus as well. Nice to quickly edit their settings. And the active page now has a context menu as well: just click somewhere on the canvas to change the background or add a widget!
---
Status Update July 29, 2021
This article is no longer accurate. That's why we labeled it
Old news
. Please check the
start.me Help Centre
for the latest information.