Introduction To-do widget
Introduction To-do widget
Introduction To-do widget. Our Google Tasks widget is quite popular among our users.  Yet, many users asked for a Todo widget that does not require a Google account. Today we've made it available: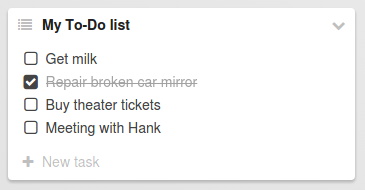 The new Todo widget has several improvements over the Google Tasks widget. The to-do items can be edited just by clicking them. They can be reordered, by merely dragging and dropping them in the order you want. The tasks are stored in our own database, so there it is fast and secure; the widget will feel a lot 'snappier.' Finally, the checkboxes to mark an item as completed as slightly larger, making it easier to check off things.
Instructions
To add the new Todo widget to your page, follow the next steps:
Click the green '+' icon at the top-right corner of your page
Select 'Browse Widgets'
Search for 'Todo' and select the 'Todo List' search result
Click on '+ New task,' fill in the name of a task and hit Enter
Once you've completed a task, you can mark it as completed by checking the item's checkbox. To edit an item, click on it once. Alternatively, you can right-click on an item, and select 'Edit' from the context menu. To edit multiple items in one go, select 'Edit' from the widget menu. To delete an item, right-click it and select 'Delete.'
---
Status Update July 29, 2021
This article is no longer accurate. That's why we labeled it
Old news
. Please check the
start.me Help Centre
for the latest information.