An Interview with teacher Sam Pennington: "start.me never fails me."
An Interview with teacher Sam Pennington: "start.me never fails me."
Sam Pennington is not just a start.me enthusiast, he's Teacher Sam! You can find him on Facebook and YouTube, as over 10,000 followers have already. His mission? Making your teaching life that little bit easier. In this interview, you'll find out why he thinks that start.me is a great resource for all teachers, parents, and learners of English.
I spoke with Sam on Skype, on September 24th, 2020. This is a faithful transcription of our conversation, even though I've redacted it for purposes of clarity and brevity.
Start of the interview
Stefan: You're an English teacher in Spain. My first question is, how did you end up there?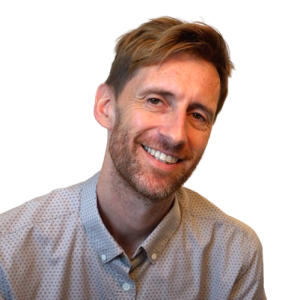 Sam: When I was young, I liked working with children. So, my first job was as an activity organizer in a Summer school. I used to see the teachers there, and I thought: I want to be a teacher. And then, during my last summer school, I was living in a house with lots of foreign students, and I liked it. And I thought: I want to live in Spain or Italy. I love the culture and the people. I wanted to get away from the UK and the weather, and the food. What can I do?
So, I decided I could be a teacher of English in Spain or Italy. After this, I took my Celsa course, my qualification to be called an English teacher abroad. After that, I applied for a job and I got the job. This was in 2007. And I love my job.
It's the best job in the world!
You live in Spain now, not Italy?
Yes. At that time, I was learning Italian. But I met a Spanish girl, and we were dating in the UK, so that's why it became Spain. There was Love there, Amor, you know, so…
You're not an English major?
No, I did Media, Photography, and Design. That was my degree. And I also did English language, obviously in college. College is like after high school in the UK, and I like languages and that's another reason to go to Spain, to learn languages.
But I try to put what I learned at the University into my YouTube videos and other materials. And it's working! I get a little audience as Teacher Sam. I hope to get my name out there, so people know who I am a little bit.
And start.me is going to help with that.
It's great to get more exposure.
I hope it helps. We'll mention you on our Twitter account.
It's a difficult place to be, Twitter. You must communicate every day. Tweet, like, and share. I don't have time; I don't have time to be there. But we'll get there, little by little.
My most important contribution is to provide free educational resources. That's important to me, and that's on my Facebook page.
We'll mention your Facebook page too.
That's the main one. I have over ten thousand followers. It is dedicated to free educational tools. For example, I've created a free grammar wheel. People can move the parts, they can find irregular verbs, and they can find the correct questions. And I recently made a behavior wheel. The behavior wheel is to engage and motivate young children, maybe at home, because obviously during the coronavirus, we cannot use materials anymore in class, so the parents can use these in their house with their children.
Nice! On YouTube, you mentioned start.me as a valuable free teaching resource for you.
Yes. It's a fantastic way to manage bookmarks.
It's a lifesaver! Brilliant! It's that simple!
How did you get to know us?
I googled Applications for Bookmark to organize links, and your name came up. I also found Toby, a competitor. The important thing about start.me, is that you can click the blue extension button and you can save the link. With Toby, you can't do that. You must copy and paste, and that's no good. When I'm browsing the web, and I'm searching, and I find a great website for resources, I click the blue extension button. Next, I can type the name, choose the folder, select the page, click done, and I'm saved!
Wow, great! Yes, bookmarking is our main feature. But there's more to start.me than just bookmarks.
Sure. After I found your app through Google Search, I played with it some more. I always do that with an app. The more I play, the more I learn. You organize pages in what you call widgets. I love the widgets, because I can have widgets for bookmarks, and I can quickly make a note. That's the second feature I like. So, I go to my page and click the plus sign and make the note. I've got different notes for different levels, so primary education notes, secondary education notes, and adults. These are the two key features that I like.
And what about the News Reader?
I used to use the News widget, but I don't read news anyway. No, the most excellent feature I like, are the pages. The beauty of your dashboard is that it looks like a website with tabs. So, to me, it's easy to organize because you understand from a webpage how it's organized. Those three main things make my life easier. Pages, Widgets, Bookmarks. I'm happier because of start.me. I'm not as stressed as before. And I'm not looking all the time for my links in Google Chrome. Oh, and it's very visual. You can visualize.
start.me never fails me
You can see everything on the screen. I can see the websites I go to every day. Primary website. Secondary website. And the other features, I don't need to use them. I'm a very simple guy, and this is amazingly simple. You make saving a link extremely easy with the extension. And then: how can I see my links; how can I visualize it? It's all in one screen. It's very well organized in widgets and pages.
You understand the product very well.
I do. And I'm surprised that nobody uses it but me. I mean, I suppose you have many users, but my friends don't use it, and my colleagues don't use it. They are not as organized as me, I think.
So, you need a personality that's interested in organizing things.
I think so. I'm very, we use the word in English, anal. This means you are highly organized and extremely specific about how you want to organize things. I like to organize my bedroom, my office, and my start.me page. You use it every day, so you must be organized.
Have you got a PRO subscription?
No, I don't. I try to do things for free online. In English we call this 'tight'- we don't like spending money. But obviously, to survive as a company, you have the ads and the paid subscription, I understand that.
We understand that too. That's why we offer start.me for free, so anyone can use it. It will be free forever.
With the basic features, you've already improved my life. So, explain to me: what are the reasons for me to start paying?
End of the interview
At this point, I'll end the transcription of our interview, since we switched here from a conversation to a demonstration of reasons to go PRO. If you're interested in these reasons, you can find them on our YouTube channel or on our support section.
And finally, I've thanked Sam warmly for his cooperation and insights into the life and values of a modern-day teacher.
He's clearly got a big heart for teaching, and we're happy to assist him in his efforts. And we're here to help many more!