Faster overall speed, HTTP/2 and some more
Faster overall speed, HTTP/2 and some more
We have been posting about our efforts to improve the overall speed of start.me before. That's because we think speed is a very important characteristic of a service you use every day. Today an update on our progress, with some exciting improvements! Furthermore, we added some features and tweaked the look and feel of start.me a little. You will read all about it further down.

Faster bookmark widgets
Of the more than 5 million widgets on start.me, 55% is a bookmark widget. It is fair to say that lists with bookmarks are by far the most commonly used feature. That's why we worked hard to make those bookmark lists as fast as we could. We went through the code and optimized it quite a bit. The result is that pages with a lot of bookmark widgets should render almost twice as fast! The improvement should be noticeably for everyone, in particular for those of you who use start.me on a smartphone or tablet.
Caching and CloudFlare
To further improve the loading speed of start.me, we added caching. Pages you often visit are stored locally, so that loading will be quicker. You may notice a short loading animation at pages you haven't visited for a while.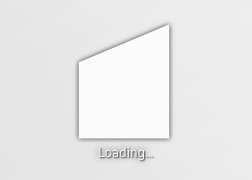 We started routing all traffic through CloudFlare, which should improve loading performance as well, especially outside of the United States. CloudFlare provides optimizations and caching and at the same time adds some protection against online threats, improving overall security quite a bit.
HTTP/2
With the move to CloudFlare, start.me also gained support for the new HTTP/2 protocol. To many this long-awaited successor to HTTP/1.1 may be all Greek. Originally an 'invention' by Google called SPDY ("Speedy"), the new web standard improves loading speed of pages considerably, by using the Internet connection more efficiently. The benefits should be most notable for those with slower Internet connections.
UI Tweaks
After the introduction of our new logo, we made some minor adjustments to the design of start.me to reflect the new colors. You may notice drop down menus now look a little more sophisticated and some shades of blue have changed. Furthermore, the way pages scroll has changed a little: the scrollbar now starts below the top header. And we changed the icon for the page dropdown menu, to make it clearer it can be used to edit the current page.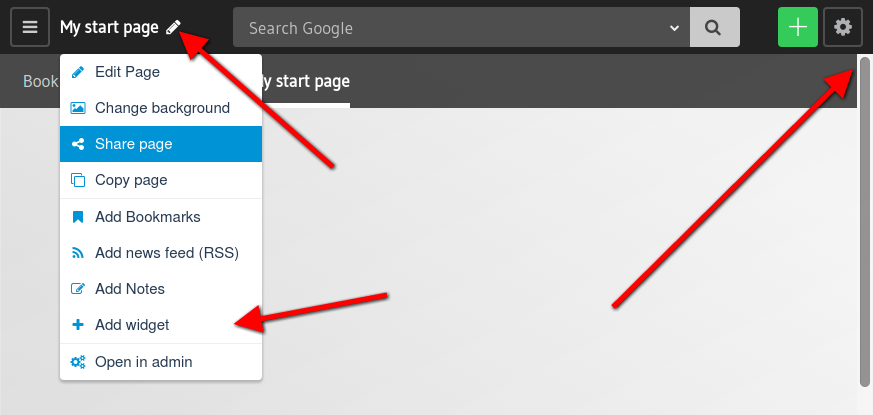 Search box on mobile devices
It took us a while, but finally we can now offer a search box on mobile devices. Because of the smaller screen sizes of smartphones and some tablets, we were not able to fit the (Google) search box in the header of mobile devices. We finally solved this issue my moving the search box below the header, so that on mobile devices too you can easily Google away!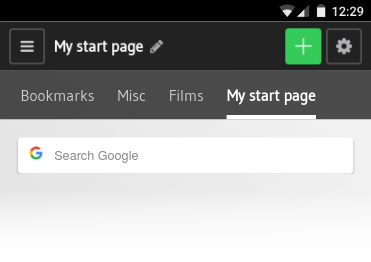 Multi-line bookmark icon titles
The Bookmarks widget received a new setting. When the widget has been switched to the Icon view, you can now choose how much of the bookmark titles is shown. Previously, on the first line would be shown. The new setting, found on the Advanced settings tab of the widget, allows you two show two lines or even the complete title.

---
Status Update February 24, 2020
---
Status Update July 29, 2021
This article is no longer accurate. That's why we labeled it
Old news
. Please check the
start.me Help Centre
for the latest information.