Why has content adding just become easier and convenient?
Why has content adding just become easier and convenient?
Content adding has never been difficult, but still, we've been very busy making it even easier. Behind the scenes, we are working on all sorts of cool things. Today we launched a very cool new feature. We call it the 'Content Adder'. What it does? It makes adding stuff to your start.me pages a lot easier.
Adding content with the Content Adder
In its most basic form, the new Content Adder is just a sidebar you can use to quickly paste a URL in and have it added as a bookmark. Simply click the green button on the top right and tell us what you want to add. Some examples of what the Content Adder will understand:
http://cnn.com – A full web address, including the http part;
cnn.com – Just the domain name, without protocol; saves you some typing!
CNN – Just the name of the site; we actually know a lot of sites, so just try us!
Simply press Enter to add the link. You will be asked to which bookmark block you would like to add the link. The Content Adder remembers your last choice, making it easy to add multiple links.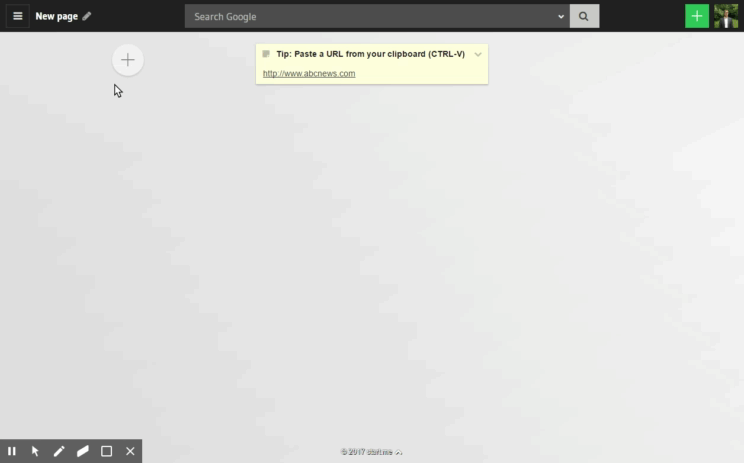 Other things you can add
We tried to make the Content Adder smart. That means that it tries to guess what you might be trying to add. So, if you would enter CNN, it would offer you a number of options:
Add a new bookmark to CNN;
Add a news feed with the latest news from CNN;
Create a new note with the text 'CNN';
Create a Google Alert to get news about CNN.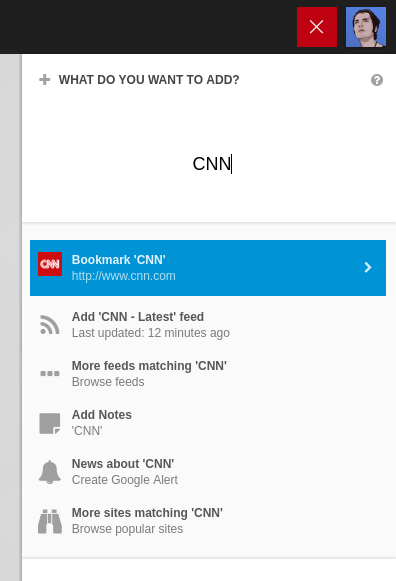 The most likely option is always directly available by pressing the Enter key. Try and enter different things and see what suggestions you will get! Some suggestions:
Enter the URL of an RSS or Atom feed to quickly add a News widget (e.g. http://rss.cnn.com/rss/edition.rss);
Paste the address of a Youtube video to embed it in your page (e.g. https://youtu.be/-DvKYXacI_Y);
Embed a Twitter Tweet by pasting the tweet URL (e.g. https://twitter.com/startme/status/819489101791555584)
Add a web photo to your page by copying it from your Facebook (by right-clicking it and selecting Copy image)
Want to add a Google Analytics to your page? Just type 'Google Analytics' and be surprised;
To add multiple links at once, just copy them from notepad or Excel into the Content Adder and presto!
Convenient shortcuts
For those who prefer to use the keyboard, we have some good news as well. The Content Adder can be operated with the keyboard entirely. To open it, use the new Alt+Insert hotkey and start typing right away. Or even better: if there is something on your clipboard you want to add, simply press Ctrl+V and the Content Adder will open automatically.
Empty widgets
We often see user pages containing empty blocks. Sometimes you just forget to remove it or perhaps it is not clear how to configure a particular widget. To help, we changed the way empty widgets look. You will now always get a hint of what to do next or the option to directly remove the widget.

Smaller changes
Finally, we made some smaller changes to some parts of start.me. Just minor touch-ups to the overall look and feel and some usability improvements.
---
Status Update July 29, 2021
This article is no longer accurate. That's why we labeled it
Old news
. Please check the
start.me Help Centre
for the latest information.