Custom bookmark icons
Custom bookmark icons
A feature that has long been on our wishlist (and on those of many of our users as well) is to be able to select custom icons for bookmarks. Today we launched a new feature that is a great first step in accomplishing that. When editing bookmarks, you now have the option to use one of our over 500 high-quality stock icons in stead of the standard website icon.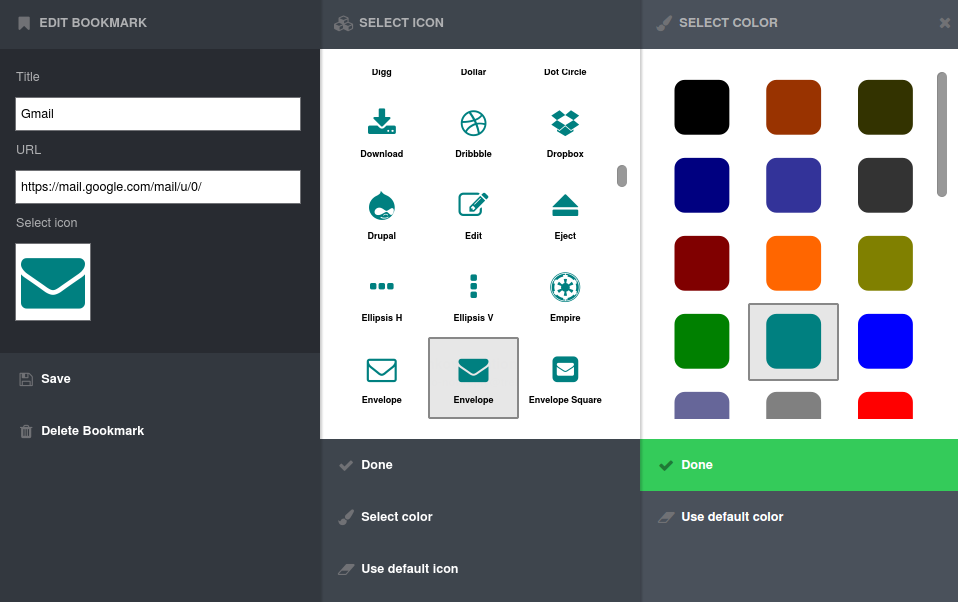 Selecting your own icons and colors allows you to build better looking pages that more closely match your preferences. The collection of stock icons contains quite a lot of brand icons and icons of common objects. We will keep expanding the collection.
Large icon view
In addition, we added a new view mode to the bookmarks widget: Large icons. This mode is great in combination with the high quality stock icons we provide. You can use it to get quick access to your most frequently visited sites. Large icons can be a good way of creating buttons on public pages as well.
Design changes
By the way: have you noticed we have been making some design changes, lately? We are working to further simplify the way start.me works. Some examples:
We made adding widgets easier by putting add-buttons below each column and in the header;
The sidebars you use to edit things and change settings can now cascade, giving you a better view of what you are doing;
The previews for RSS feeds have been improved, giving you a better impression of the feed you may want to add;
Editing pages has become easier: we added an edit-button next to the active page's title in the header.
In the coming weeks, some other great features will be launched, including a lot of new widgets!
---
Status Update July 29, 2021
This article is no longer accurate. That's why we labeled it
Old news
. Please check the
start.me Help Centre
for the latest information.