Copy widgets; public pages
Copy widgets; public pages
The number of public pages available is growing steadily. Chances are you have seen some rather cool pages already (like this page with Game widgets or a page about Google Glass). Until now it was not possible to grab a cool widget of a public page and make it your own. Today's release changes that!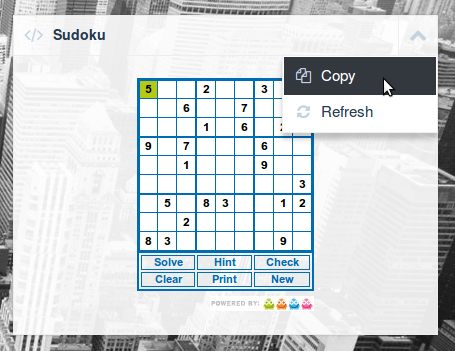 This new feature clears the way for a whole new way of using start.me. If you have some really nice widgets, share them! Make your pages public and allow others to copy your widgets.
Of course it is possible to just copy widgets between your own private pages as well. Ideal if you would like to have the same search widget on multiple pages. Copying saves you a lot of clicking.
You may have noticed some of the other changes we made last week. First of all, we have applied numerous performance improvements. Especially pages with a lot of RSS widgets should benefit. And then we introduced a new type of Public page: unlisted ones.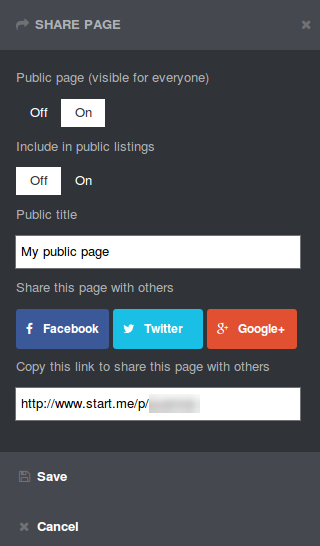 Until now, every public page would be indexed by Google and as such really public. We found that most people would just like to share a page with a number of others, without the whole world knowing about it. So by default, all public pages now are 'unlisted'. If you still like Google and the World to know about your page: just make it listed again. Oh, and we changed the addresses (URLs) of pages. The old addresses still work, but you may want to update external links and bookmarks.
We hope you enjoy these new features. Of course any feedback is very welcome!
Update:
All public pages can now be accessed through http://explore.start.me or clicking the "Explore" button in the right top of the app.
---
Status Update July 29, 2021
This article is no longer accurate. That's why we labeled it
Old news
. Please check the
start.me Help Centre
for the latest information.