How to add attractive colors to your homepage
How to add attractive colors to your homepage
As Google managed to monopolize the Internet, it also locked us in a dull white screen with only their primary-colored logo to provide some relief. Simple, but boring. And a prime example of sensory deprived advertising. Smart! Now we've established this charming little fact, we propose an alternative: why not break free from the behemoth and add colors to your life?
We propose no less than five ways to get creative.
Color up your background
Why the online world basically settles for just one background color is indeed a mystery to us. Especially since there appear to be no less than 10 million colors, the human eye can process. Yes, that's less than the 16.8 million colors your computer screen can display to create full-color images, but still. Our eyes are quite an impressive feat of biological engineering.
So why don't you give them something interesting to look at, by choosing for yourself? You just have to click the little pencil icon next to the name of your start.me page. Out pops a menu with the option 'Theme & Layout.'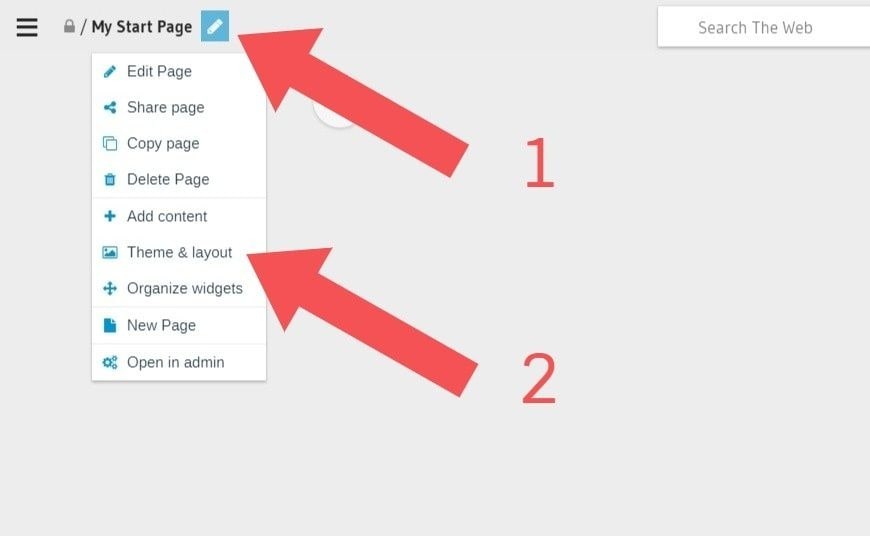 After this, you can select the background color you like. You can choose one of the colors we love ourselves. Some bright yellows, soothing greens or empowering reds. There are also different shades of gray if that's more to your liking. Just click and continue.
For the more discerning or tech-savvy user: you're welcome to choose your very own color. You just need to know the hex color code of the color you prefer. Then your new background color is just a few clicks away.
Choose your theme wisely
The color we personally like is hex color code #6d9da9. We've named it Midnight Petrol. It makes us think of the freedom of long winding country roads, we're not sure why.
This color is quite a bit darker than the standard grey color, so the title of our page tends to disappear into the background. To prevent this, we return to the same 'Theme & Layout' menu and select the Dark Theme. This way the letters show up bright and clear.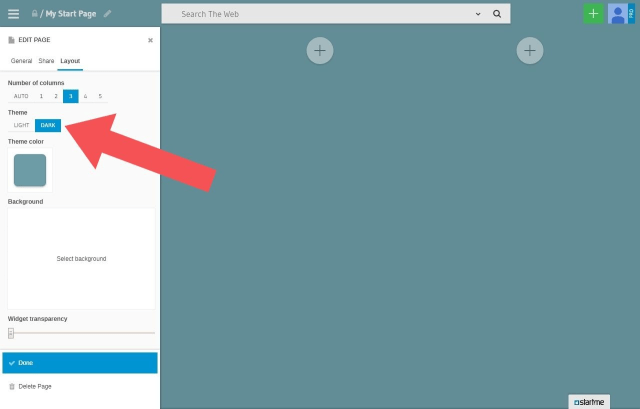 Widget backgrounds
Next up, a most welcome feature to each and every one of our many widgets. Did you know their background can also be changed to exactly the color you prefer? Not only are you free to color your bookmark block or your custom RSS-feed, but you're even free to adapt and adjust any widget! No exceptions.
Just hit the drop-down arrow in your right-hand corner and select 'Settings.' You'll want to click the third option: 'Background.' From here on you've got the same options as before, with the page background.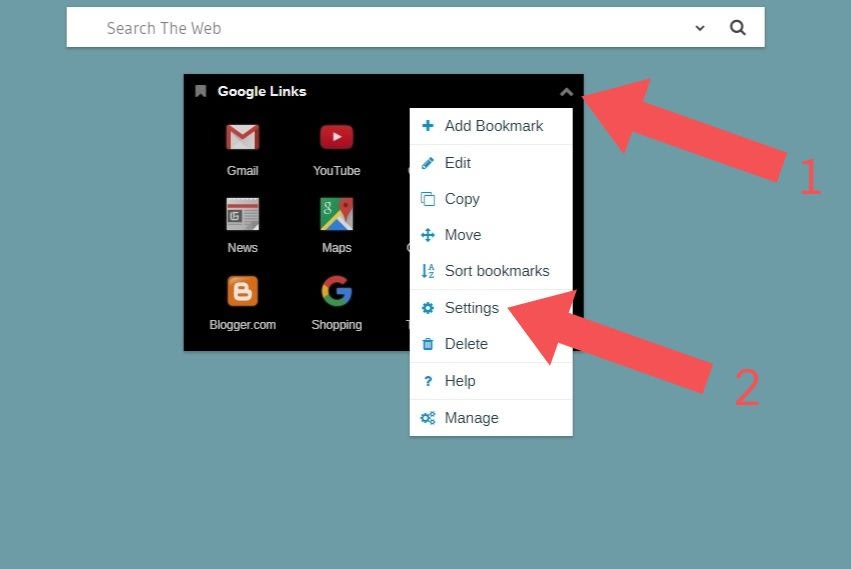 Transparency
A final touch of beauty is the option we've called 'Transparency.' You'll find it directly under the 'Select color' button. Here you can just slide the selector and see the result immediately. In our opinion, it makes the icons sort of float freely on your page.
It's effect also works wonders when you've chosen to display a background image on your start.me page. But that's something we've covered already. Here's what it looks like: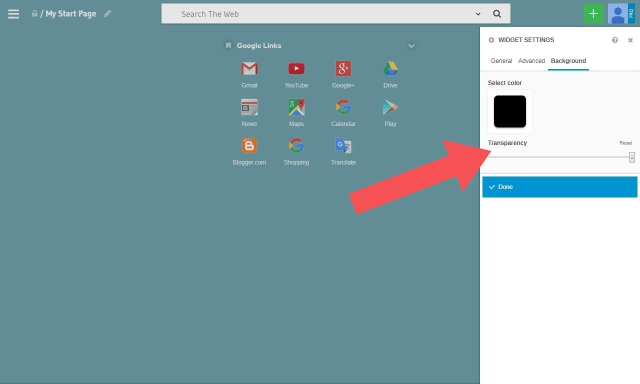 And finally: add colors to your icons
With so much color-options on your screen, you might just feel a bit overwhelmed. Or cluttered. Or frustrated by the fact that your bookmark blocks are still mostly designed by others. For everyone looking for more harmony online, we provide an added feature: complete bookmark customization.
And it's not difficult either. Just right-click icon that's bothering you and select 'Edit.'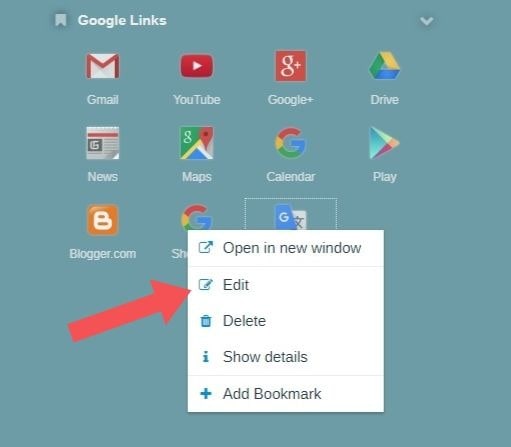 After this, you click the 'Select icon' button: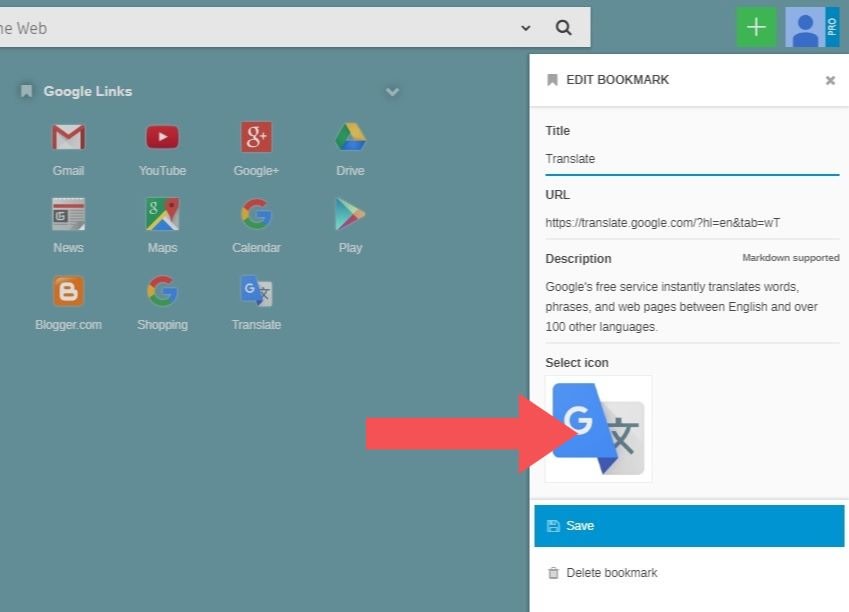 Just give it a try, and see how a new host of options will open up:
Choose an icon from our database.
Upload your own icon (you'll find them later easily under 'Your icons').
Select the color for your icon from our choice of colors.
Do the same, but specify your own custom color, using the hex color code from before.
If by some chance, you might want to revert to the original icon, you just click 'Use default icon.'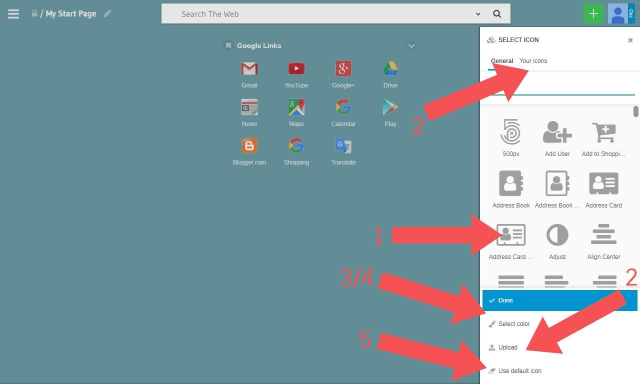 In short: you can add colors to make your own start.me page as soothing, artistic or beautiful as you'd like. Why? Because we believe in the power of customization, right down to the core of the service we provide. Drill down to the level of the individual bookmark, and you'll find color. And choice!
We love to hear from you if you find this tutorial helpful at all. Please let us know in the comments below.