Spring is a good time to clean up your stuff and get creative. Last year, we used the springtime vibe to come with a whole new design for start.me. This year, we worked on a 'grand' release with tons of great new features and enhancements to our user interface. Today we are launching the public beta and we are really looking forward to your feedback. Of course we would like to hear happy, positive remarks: we live on those. But the more critical feedback is very important to us as well, as we can use it to make some last corrections before the changes are released.
---
Try it on beta.start.me.
---
The pages menu
So what has changed? Quite a lot, honestly. Probably too much to mention. The first thing you will probably notice is that the navigation section of the site has been changed quite a bit. We wanted to make it more compact and easier to use. We have seen a steady growth of the amount of pages users typically have. To accommodate this growing amount of pages, we changed the navigation concept: rather than trying to show all your pages in one small bar, we decided to introduce an easy to use pages menu.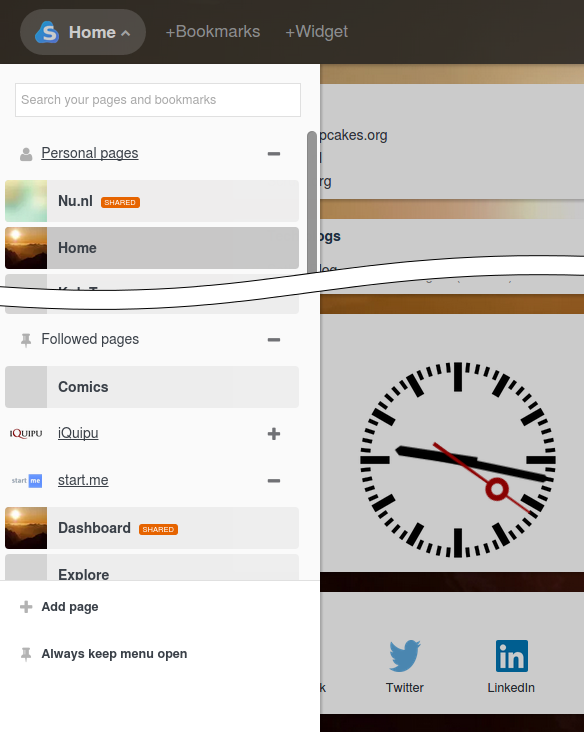 For those who like to always have the list of their pages available on-screen, not having to open a menu first, there is the option to 'Always keep the menu open'. That places the menu in a fixed position on the left. Furthermore, we added keyboard support: the pages menu can simply be opened with the Alt-Shift key combination. Once the pages menu opens, you can start typing to directly find the page (or link!) you are looking for. We love it, we hope you like it, too!
Your own images
Throughout the application we made it a lot easier to upload your own images, whether it is to use your own background picture or to change your avatar: it should now be a snap. We introduced a new uploading component that not only lets you select a file from your computer, but is able to upload images by just copy-pasting them from somewhere on the web. Many more file formats (including even PDF and SVG files) are now supported for background images, avatars and custom icons.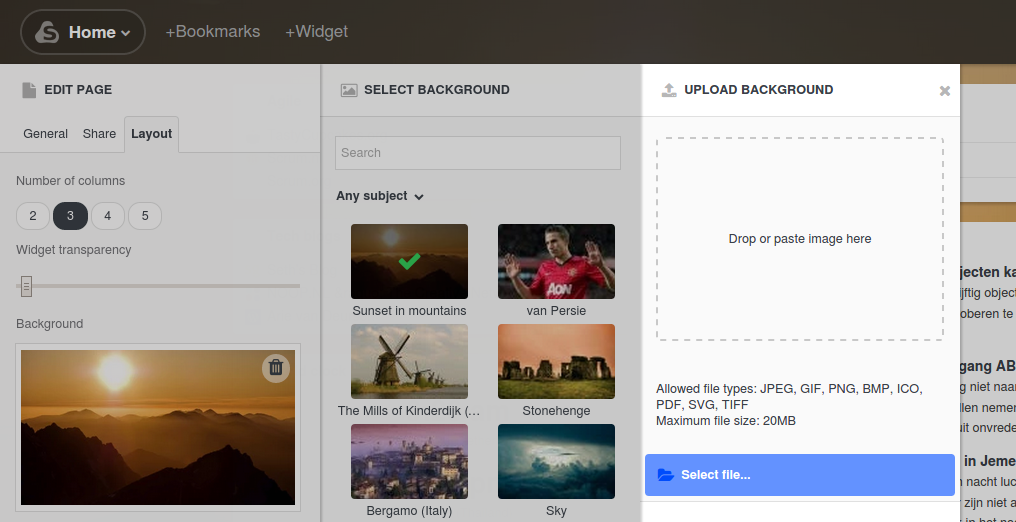 Custom icons
I bet you had to read that twice: "custom icons." That's true: it took us way too long to finally implement it, but you can now actually upload your own, custom icons for bookmarks. Of course, most of the icons start.me assigns automatically are usually just fine, in those cases where you like more control (or just want to have the beautiful face of your love somewhere close), you can pick whatever you like. Uploading the icons is a breeze and the many file formats we support makes it a snap to find the right icon.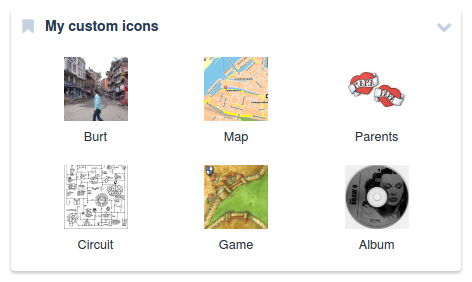 Transparency
One other we feature we had a lot of emails about is widget transparency. Making the backgrounds of widgets a little transparent can make the page background stand out more and make the whole page look more beautiful. However, we found there is no such thing as the perfect amount of transparency. That's why we decided to let you decide on transparency. You like some of your wallpaper to shine through? Great, just do that. You want no widget borders visible at all? Just set transparency to 100%. You will find transparency control in the Layout tab of the page settings.

Many more
We have added a lot more features that we can not all mention. You may notice the User settings section has been overhauled, now allowing you to choose your own avatar and selecting your country and interests, to better tailor start.me to your needs. Organization users with custom subdomains will most certainly be interested in the new features we have added for shorter, more easily rememberable page URLs, such as acme.start.me/our-products. We added a new 'XL images only' mode to the Feed widget that is great for comics and photo blogs. There have been quite some speed improvements and bugfixes and, oh…
A new logo!
We almost forgot: there is a new start.me logo! With last year's new user interface, a new logo was introduced. We never quite liked the logo and more or less considered it a temporary thing. Now, after a lot of debate and consulting designers from over the whole world, we finally have a logo we are very happy about. To us it symbolizes the many great things start.me brings and will bring in the future. It is simple and down-to-earth, just like start.me. Hope you like it, too!

Give us feedback!
We are currently wrapping up the changes, preparing for a go live within two weeks. There are still some rough edges, so be aware. Your feedback is most welcome. Please let us know what you thing about the changes. And if you find a bug: let us know!
---
---