The past few months we have quietly been working on a cool new feature for start.me we like to call "Organizations for start.me". Today, we released the new functionality (we'll tell you more about it in a bit) as a public beta. We hope you enjoy it and give us as much feedback as possible. We love to hear from you!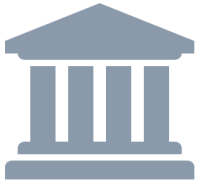 Why do I need an organization?
Until today, using start.me was more or less a solo activity. You could create a set of pages and enjoy them on your own. Sharing pages was possible, too, but only with the world or the few people you would be willing to share the link with. What would you do if you wanted to share a bunch of pages with your coworkers or a group of friends? Not too many options. That's why we introduced the notion of an 'Organization'.
In a start.me 'organization', multiple users can share and discover each others pages, without the rest of the world having to know about it. One user is the organization's owner and can invite as many other users as he likes, just by sending an email, or by distributing a special, multi-usable 'join us' URL. The organization has its own hub on start.me and its members can use this organization center to find out what pages other members have available for them.
Some examples?
So who would need a start.me organization? And what would they do with it? Some examples:
A group of friends could start their own little organization to share the links they have collected with each other. They could use the organization to plan meetings, to share ideas for the next holiday, plan a bachelor party or show off their online high scores.
A volunteer group could use a start.me organization as a free publishing platform, on which both documents and links for internal use and information for the rest of the world can be published. With some creativity, these volunteers can create an effective website for their organization, all for free.
A teacher might decide to open a start.me organization for his class and share pages about the various courses he teaches them. This teacher could make a page about a science project or a thematic page about the second world war. He could even use it to publish his students grades in a secure and shielded environment.
Enterprises may use start.me's new organization feature to create dashboards to publish KPI's, both for their employees and their stakeholders. Departments and teams may decide to use start.me to organize the multitude of information sources (e.g. online documents and admin environments) and make them available to all members.
We are sure there are many more interesting use cases for organizations and would love to see how you would use it. Drop us an email and let us know!
The hairy details
So how do you create an organization? That's really simple. We added an 'Organization' section to your main menu. For starters, it contains a new 'Create organization' item. Once you have created an organization, you can access the management console from the same place in the main menu as well.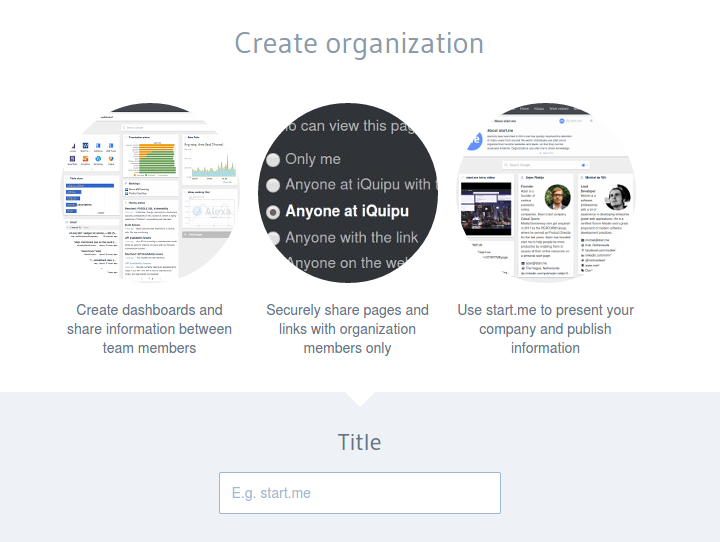 To create an organization, all you need to do is specify a title. Just press 'Create' and you will be the proud owner of a brand new organization. A new button will show next to you personal menu that allows you to directly access the organization. The organization page will show a Gear icon that gives you access to the organization management panel.
We will create the first page for you. To add more pages to the organization, assign them to the organization using the 'Share page' option in the main menu.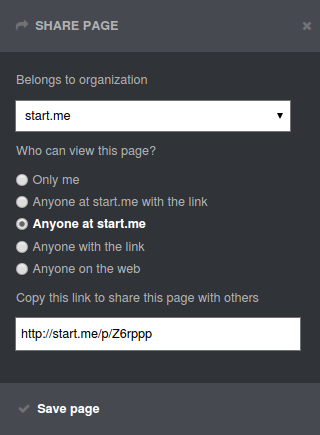 By assigning a page to your organization, two new sharing options will become available:
Share with everyone in the organization. The page will be available to anyone in the organization, but will be blocked for outsiders. Google will not index the page, nor will others be able to see what's on it. On the listing of organization pages, this page will be included.
Share with everyone in the organization who has the link. Still the page will only be available to organization members, but it will not be included in the listing. Only those who have the link will be able to find and access the page. A nice way to share a page with a limited number of people, for instance because it is not quite finished yet.
All free?
Yes. The new organization functionality is free for all to use. But please remember, it is still in BETA. If something does not quite work the way you would like it, please let us know. For those who would like some more: we have a number of premium organization (non-free) features available for you:
A custom subdomain for your organization (e.g. acme.start.me)
No ads on any of the organization's pages and for all of its members
Moderation of organization pages
Open communities (organizations users can join without invitation)
Inclusion of organization logo on all organization pages
If you are interested in any of these premium features, just contact us!