Some users asked us how to best add comics to their start.me page. Today we released a minor update that actually makes adding comics (but other image feeds as well) easier and more fun.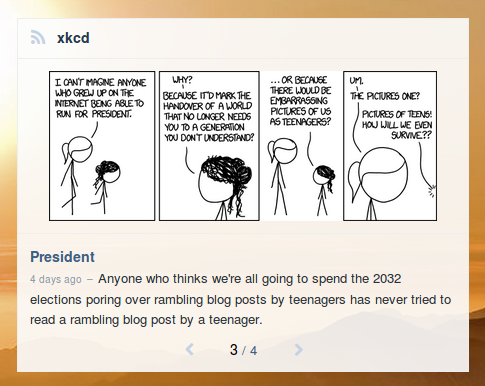 The Feed widget's 'Show images' setting has been expanded with a third option that allows a larger display of the primary image for an article. To have a daily comic on your start.me page, all you have to do is find its RSS feed (for instance on ComicsSyndicate), ad it to a Feed widget and choose the following settings:
Show summaries for all articles
Show large images
Of course, this new setting can be used to include photo blogs, or just get a better view of news photos. Have fun!
Update: by popular request, we added an 'Extra large images' option to the 'Show images' setting. This option will render images as big as possible. Nice for vertical comics, but for photo collections from Flickr as well!